A crib is one of the first big purchases you'll make for your baby. There are so many options to choose from and so many factors to think about before you take the plunge. Before you start shopping for the best crib for twins, read on for some important considerations and our thoughts on some of the most popular choices.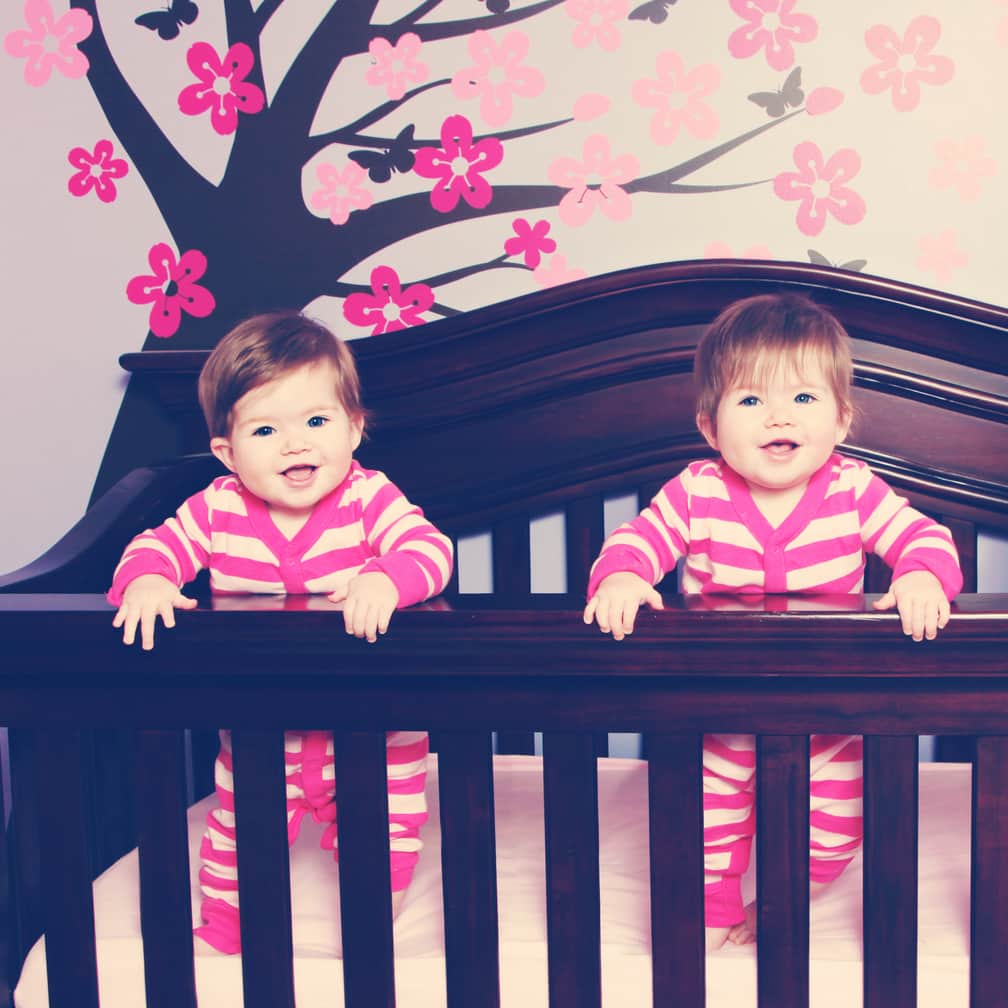 If you thought finding the perfect crib for one baby was confusing, just imagine how bewildering looking for the best type of crib for twins can be. Should your babies sleep in one crib? Is that even safe?
Should you buy a bassinet or a Moses basket? And what about those baby bunk cribs for twins? It can all be quite overwhelming, so read on.
Best Crib for Twins Comparison
Disclosure: The links to Amazon.com within this article are affiliate links. As an Amazon Associate we earn from qualifying purchases. This does not affect the price nor does it influence the products we feature.
| Product | Features | Quality | Our Rating |
| --- | --- | --- | --- |
| | 5/5 | 4/5 | |
| | 4/5 | 4/5 | |
| | 4/5 | 4/5 | |
| | 4/5 | 3.5/5 | |
Which Features Should You Look For?
A crib is one of the most expensive things you'll have to buy for your baby. Just one can cost between a hundred to over a thousand bucks. Now multiply that by two.
Before you buy a crib, you need to do some research and really think about your options. Aside from the cost of these items, your babies will be spending most of their first few months or years in these cribs, so you want to get ones that are as safe and comfortable as can be.
Here are some important factors to consider when looking for a crib for twins.
Crib type
Twin bassinets, a crib with a divider, mini cribs, separate cribs, convertible cribs — there are so many crib types to consider.
Some parents place their twin newborns in a single crib. This is, however, a temporary solution, as twin babies shouldn't sleep in the same crib when they're already old enough to move around. Twin bassinets are only suitable for the first few months after birth, as are Moses baskets.
Separate cribs are the safest option. But with two cribs, space may become an issue. According to the American Academy of Pediatrics, babies should sleep in the same room as their parents to minimize the risk of sleep-related infant deaths.
If there is not enough space in your bedroom for separate cribs, mini cribs are your best bet. You may also consider investing in convertible cribs that your twins can use as toddler beds later on.
Size of the room
Measure the master bedroom or nursery before you buy a crib for twins. A great space-saving tip is to position the cribs in an L shape in the corner of the room instead of placing them end-to-end or side-by-side. Don't forget that you'll be putting other furniture in the room — like a changing table or a glider — when you're thinking about how to fit two cribs in there.
Frame and mattress sizes
If you have decided to get separate mini cribs for your twins, make sure you are buying mattresses that fit in the cribs securely without leaving any gaps between the mattress and the crib. Babies can easily fall into the smallest of gaps on the sides, get their heads trapped, and suffocate. If you can squeeze more than two fingers between the frame and the mattress, the mattress is too small for the crib.
Mattress type
Your babies' mattresses should be firm and dense. Many parents prefer crib mattresses that have inner springs or memory foam. If you go with foam mattresses, get ones with a high-density foam material.
You should also check the mattress supports. See if the parts that support the crib mattress are sturdy and made of materials that won't break or bend.
Crib material
When your babies start sitting or standing up, they may begin gnawing on the sides of their cribs. Before buying a crib for twins, make sure that the items are free from toxic chemicals like PVC and latex. The paint used should be lead-free and any finish applied should be non-toxic and child-safe.
When looking for a crib, check the wood for splinters, exposed nails, rough or sharp edges, peeling paint, glue residue, and other flaws that can harm your babies. Check the mattress for frayed fabric and any parts that can be pulled off. Check the crib's label to make sure that it complies with all safety standards.
Safety features
Cribs with drop sides are a big no-no. Drop sides can loosen and babies can become lodged in the space between the drop side and the mattress. If the crib has slats, the gaps between them should not be wide enough for your baby's leg, head, or arm to wiggle through.
Crib bumpers and other types of padding pose serious hazards for babies. Make sure the cribs don't have any parts that can suffocate your children.
Look for teething rails, which are smooth plastic panels that cover the top of the rails. These coverings protect the rails of the crib, which babies like to gnaw on when they are teething. Teething rails should be crack-resistant and made of BPA-free plastic.
Stability
At the store, check that the cribs don't shake or wobble when you give them a slight push or two. If the crib shakes, that means that the frame is not held together well or that the crib was made from flimsy materials that can eventually break. Move on to the next option.
The ideal crib for twins should have metal stabilizer rods attached to both end boards under the crib. These rods help keep the crib frame firm and balanced. Locking wheels can also make a crib more stable.
Convertibility
Cribs are costly, which is why convertibility is one of the most important features to look for when buying a crib for twins. A crib that can convert into a toddler bed and then perhaps into a full-size child's bed may cost more at the beginning, but it's a good investment. You're practically getting three beds for the price of one.
Convertible cribs are also great because they help your babies transition into toddler beds. Most convertible cribs transform into toddler beds through the simple removal of one of the sides and the addition of a short rail. It will be easier for your children to get used to sleeping in their toddler beds because they're technically the same beds they've been sleeping in since infancy.
Just remember that some convertible cribs don't come with all the parts needed to convert into toddler beds. You may still need to purchase bed rails, headboards, or bigger mattresses later on.
Top Cribs for Twins
Baby Trend Twin Nursery Center in Circle Tech
"Everything you need for twins"
Removable bassinets convert into rockers
Bassinets are well-ventilated
Changing table and parent organizer included
One-hand locking mechanism and large wheels
Music center with vibration and nightlight
This multifunctional twin nursery center is a great option for when you bring your twins home and for the first few months of their lives. It has two removable newborn bassinets that can be used as rockers, a full-size bassinet, a play yard, a flip-away changing table, a parent organizer, and even a diaper bag. It definitely won't last until toddlerhood, but it's got everything you need for the first few months.
The removable newborn bassinets can be used until your twins reach 15 pounds or grow to be 25 inches tall. The play yard can be used for a bit longer. Your twins can happily play inside until they are 30 pounds each or until they are able to climb out.
DaVinci Kalani 4-In-1 Convertible Crib in Espresso
"From crib to full-size bed"
Converts into toddler and full-size beds
100% sustainable wood
Structurally sound
Perfect height for easy reach
Non-toxic, lead-free, phthalate-free
Now here's something more upscale and long-lasting. The Kalani convertible crib from DaVinci is gorgeous and has a timeless style. This is the type of furniture that you can pass down to your children and then to their children.
The convertible crib is perfect for newborns and can be used as a bassinet until your child is about 18 months old. It then converts into a toddler bed and then a full-size bed. It can also be used as a daybed.
The conversion kits are sold separately, which makes this crib quite costly. But while your child will quickly outgrow the crib, she will be using the full-size bed for many years. So it's still worth it.
This product is made from 100% sustainable pine wood from New Zealand and coated with a non-toxic finish. The crib meets CPSC and ASTM safety standards and is GREENGUARD Gold certified.
DaVinci Emily 2-in-1 Convertible Mini Crib and Twin Bed in White Finish
"Space-saving convertible crib"
Perfect for smaller spaces
From mini crib to toddler bed
Waterproof mattress pad included
Two adjustable mattress heights
Lower profile for easier reach
If you don't have enough space in your nursery for two full-size cribs, this mini crib that can be converted into a toddler bed is the perfect space-saving solution. The Emily has a classic and versatile look that will suit any bedroom. Made from strong New Zealand pine wood, this crib will last years and years.
What we love about this brand is that they give so much thought to safety.
The materials used are lead- and phthalate-free and all finishes are non-toxic. The Emily is GREENGUARD Gold certified, which means that it was tested for more than 10,00 VOCs and other chemicals. This is a low-emitting product that is perfectly safe for closed spaces like your children's nursery.
Dream On Me Aden Convertible 4-in-1 Mini Crib in Grey
"From infancy to adulthood"
Solid pine wood
Perfect for smaller rooms
From mini crib to a twin-size bed
Changing pad included
Three adjustable mattress heights
The Aden convertible bed is a lifetime piece that your children will be able to use from the day you bring them home to when they are grown. The crib converts from a mini crib to a daybed, a twin-size bed with a footboard, and a twin-size bed without a footboard. There are three mattress height settings to accommodate your growing children.
The compact design lets this crib fit into smaller rooms. If you have twins, two of these mini cribs can fit into your master bedroom or nursery. The Aden is made from solid wood and is available in a variety of finishes to suit your style.
This product meets ASTM and CPSC standards. The crib is free from lead, phthalates, latex, and BPA.
Finding the best crib for twins can be tricky, but don't let the dizzying array of choices overwhelm you. We hope this short guide helps you choose the perfect cribs that will keep your little ones safe and will be useful for a long time. Happy shopping!